The web team is excited to announce two great new website features that have been requested by many campus partners.

The first release prioritizes the order of faculty chairs and academic assistants within faculty listing pages. This enhancement will allow you to quickly and easily find the chairs and academic assistants on each department's faculty and staff page. You'll find them at the top of the listing for easy contact.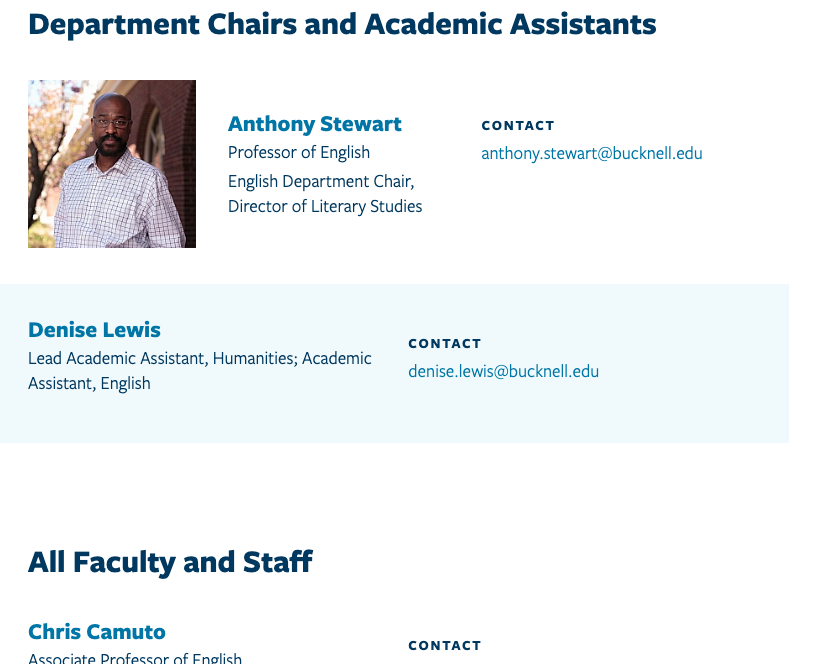 The second release is the return of faculty and staff photos. This includes the faculty and staff A-Z directory as well as the individual department list pages.  If you have worked with Communications to take a professional photo and don't see it on the site, please contact photography@bucknell.edu. To schedule a professional headshot, please contact Gordon Wenzel at info@impressionsphoto.net to schedule a 10- to 15minute photo shoot in his downtown studio in the Chamberlain Building, 434 Market Street, Suite 207.
Thank you for your patience and partnership as we continue to work to make bucknell.edu the best website possible. As always, we welcome questions, comments and suggestions at communications@bucknell.edu.