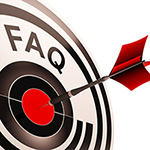 Q. Tell me again, why are we redesigning the Bucknell site?
A. Technology and the expectations of our visitors have changed since the current site launched in 2008. Now we have an opportunity to apply new design capacities and technologies to make our site even more effective, memorable and useful for all website users.
Q. What will the new design be like?
A. Contemporary and lively in design and friendly in tone. We recorded our two recent presentations, where we shared screenshots of how the new site is developing.  Please keep in mind that the videos feature screenshots, not a functional website since it hasn't been built yet.

If you have any questions about the videos, please write to roberta.diehl@bucknell.edu
Q. What's changing in the new site?
A. A lot! The navigation will be simpler and targeted at the user, not built around how Bucknell is structured. Users will be able to customize to a degree, particularly the content they prefer to see on the home page. The site will be fully responsive so that it works well on any device. The search feature will be a big change – after you type three characters it will begin suggesting results. Users will be able to contribute content and images to the site. With a mix of dramatic pictures, videos, stats, stories, and facts the site will encourage exploration by prospective students, and support the search for targeted, practical information by current students, faculty, staff, alumni and parents.
Q. What can I do in my department/area to prepare for the new site design?
A. Actually you don't have to do anything. We are building out the content and design of all pages of the future site, incorporating material from the current site that addresses important user needs. We want every section of the site to be valuable and useful and will do our very best to migrate your content  into the new design in a way that highlights all of your distinct and discipline specific material. However, if you'd like to help with this effort, we'd love you to be involved. Please contact roberta.diehl@bucknell.edu to discuss how you can help with this transition process. Meanwhile, once we launch the site, if there is material you'd like changed on your site, we will be happy to work with you to get that done quickly.
Q. Should I be writing/rewriting my content?
A. You don't have to do that as we'll take care of it for you. But if you or someone in your department loves to write, and has the time during December, we'd love to hear from you. Please email roberta.diehl@bucknell.edu.
Q. Will I be responsible for migrating my site to the new design?
A. No. That would just be mean of us! The Communications staff will take care of that. The digital communications team will handle design migration and the editorial team will handle content migration. That work will be based on guidance and advice from our redesign partner and what we know about website and digital communications overall, as well as the data we have on website traffic. We will make our very best educated effort to migrate your material into the new design carefully and effectively. We want you to look good, and we will use all the tools at our disposal to make this happen.
Q: When will the new site be live?
A. By the end of January 2014.
Q. Will I be able to see my site, migrated to the new design, before it goes live?
A. In an ideal world we would work through each migration one office at a time. Because of the scale of this project, that just isn't possible. We also want to assure you how seriously we take getting the design and content of every department's and program's site right. The beauty of the website is that nothing is permanent. We will reach out to you after the launch and ask you to review your site. We will then work with you to tweak, fix or change anything that didn't hit the mark. We will keep an archive of the old site for this very purpose. We will do our best to launch your site with all of the needed content in a way that makes you proud, and then we will gladly work with you to make it better.
Q. Once the new site is live, what do I do if my site has mistakes or content is missing?
A. Our goal at launch is to have all design and content of the site ready. Once the site launches in late January, if you see something that isn't right, just let us know and we will work with you to improve it quickly. The best method for letting us know is to use the Digital Communications Request Form. You can also send general questions to webdevelopment@bucknell.edu, or contact any member of the Digital Communications team directly.
Q: Will I be able to update my new site?
A. Yes, but maybe not in the way that you are used to. You may have noticed that over the past year we have stopped offering "Intro to Ingeniux" sessions. Instead, once you see the new site, we ask that you think about what content you would like to add, change or delete, and let us do the nitty-gritty, hands-on design, writing and formatting. With your help, we will do our best to make your message shine.
Many departments or groups are incorporating feeds from blogs or social media channels into their web presence, and the new site will support this as well. Those kinds of tools provide an easy way for you to make announcements and updates without the learning curve required to use our Content Management System (CMS). If you are interested in using tools like a blog, or social media to supplement your site, please contact roberta.diehl@bucknell.edu.
Once you see the new site, if you feel your web area, or some portion of it, might not fit the maintenance process described above, we will be happy to talk with you about your situation and options.
Q. What if I need to have something changed on the site between now and the launch of the new site?
A. Beginning in December, we will be closing access to Ingeniux so that we can focus all of our energy on migrating to the new design and only making critical updates. If you have updates before December 1, please make them however you currently do — by contacting the Digital Communications team, using  our Digital Communications Request Form, or making them on your own. If you know now of updates that will need to happen during December and January, please contact us as soon as possible and we will make them for you at that time.
Q. I hear that the site is really for prospective students. If this is true, how will everyone else find what they need?
A. It is true that our first goal is to tell the Bucknell story to our prospective student audiences because we know from extensive research that they make critically important decisions about their interest in Bucknell around the website, and they are Bucknell's future. To them during most of their deliberations process, the website is in many ways the University itself. But we are equally concerned about providing an awesome web presence to our current students, faculty, staff, families and alumni. To achieve this balance, we're taking a multi-pronged approach. Parts of the site will be experiential and full of discovery, collections of content about broad themes such as "Learning at Bucknell," "How Bucknell Will Change Your Life," and "Meet our Faculty and Students." Other areas of the site will allow the users to select which content they see, such as events, current news or athletics. Still other areas will allow the user to self-identify as a current student, an alum, etc. and be presented with relevant quick links and media-rich content relevant to that role. An extensive A-Z "Everything Directory" and an improved search feature will round out the options for locating content.
Q. Who was involved in developing the new design?
A. Early on in this project, we assembled a Website Redesign Advisory Team consisting of faculty, students and staff. This team of 12 has helped us through every step, from selecting the digital design vendor to reviewing the many working documents we have developed with the vendor expressing site  goals and information architecture, to critiquing the various drafts of the design. The vendor that we selected, Fastspot, has extensive experience with clients in higher education and many other industries. We have worked with Fastspot before and have always been impressed by their ideas and technical skills.
Q. Has the site had any usability testing done yet?
A. We haven't begun the usability testing yet, but before we're done with our planning we will do it. It's an important part of this process.
Q. When I use the Digital Communications Request Form, how long does it take for updates to be made?
A. We will always acknowledge receipt of your request within 3 working days. In that response, we will indicate when the work will be completed. We develop that schedule based on an assessment of the complexity of your request and the other projects we are currently working on. Usually we can make your updates within a week (or less) of receiving your request. If your update is urgent and time sensitive, we recommend that you call any member of the team or stop by our office (224 Bertrand Library).
Q. What should I do if I have an idea for a page or photo (or other material) for the website? 
A. If you have an idea now, please contact roberta.diehl@bucknell.edu. Once the site launches, there will be multiple places on the site where you will be able to submit ideas, contribute content or request changes.
Q. How do I contact the Digital Communication team?
A. Emails to webdevelopment@bucknell.edu go to the whole team. Your question will probably be answered faster if you email the group rather than an individual.