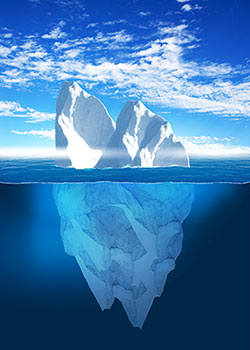 OVERVIEW
It's been a busy summer and the website redesign project has been moving along behind the scenes. In collaboration with Fastspot, our partner for this project, we've developed a Creative Brief, which articulates our goals for the new website, and reflects what Fastspot learned about Bucknell throughout their discovery phase. We have also been hard at work on a new Information Architecture (IA) for the site, and have been conducting a Content Audit. Because we challenged Fastspot to design a higher education website unlike any other, our process for the  IA and the Content Audit have been similarly non-traditionally.
THE CREATIVE BRIEF
"The new Bucknell University website will be like no other higher education website. The site will set new standards for design, user experience, navigation, and content strategy. The innovation experienced throughout the website will convey the essence of Bucknell, exemplifying a school committed to academic excellence, entrepreneurialism, and a co-curricular approach to education—preparing students for a lifetime of success and fulfillment in a competitive world."
The Creative Brief identifies our target audiences, content guidelines and strategies, admissions goals, and website functionality and content needs. It is "… intended to be used as a guide for the development of all visual and organizational elements within the new website, creating a detailed and cohesive marketing and communications effort as it pertains to the online initiatives."  Here are the keywords that will guide us through the process:
Academically excellent

Ambitious
Bold
Active
Dynamic
Beautiful
Prestigious
Entrepreneurial
Helpful
Authentic
Professional
The Creative Brief details audiences, content needs, objectives, voice, tone, style, metrics, and more. We feel confident that this document will provide the foundation for a successful and stunning new site.
INFORMATION ARCHITECTURE & CONTENT AUDIT
Sometimes less is indeed more.  In our culture of information overload, we are going against the current. The new site will be meaningful yet trim. All of the content will have a reason and purpose for inclusion. The site will focus on user needs, allowing for visitors to customize their experience to a degree, and providing a truly unique and innovative experience, avoiding conventions and challenging viewers to experience something new. The site will also be fully responsive, meaning that it will be optimized to display on all devices.
Having identified and prioritized our audiences, we've set out in the IA to identify the content needs of these audience segments. The site will explore, in a non-conventional manner, the following "experiences"
Who We Are
Learning at Bucknell
Beyond the Classroom
The Setting
Life at Bucknell
Admissions & Aid
Visit Bucknell
How Bucknell Will Change Your Life
After identifying our audience and their content needs, we conducted what we are calling a "reverse content audit." Rather than survey our existing content and tagging it as "strong", "obsolete", or "needs to be edited", we looked instead at who comes to our site and what they are looking for. We then searched our own content to see how well and in what way we were supplying that content. This process allowed us to identify content that needs to be integrated, content that is excessive or obsolete, and content that is missing. In other words, it's became an exercise that yielded highly useful results, and not just a tedious exercise resulting in a massive spreadsheet that no one would ever consult.
This is just the tip of the iceberg in terms of the discovery and planning work we've been doing over the summer. Questions can be posted to this blog or sent to be directly to roberta.diehl@bucknell.edu
What's next? The visual designs!!