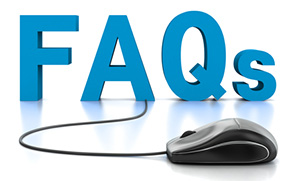 After three days full of meetings, the team from Fastspot was able to meet with almost 100 students, faculty and staff. We heard lots of great ideas and suggestions, some frustrations about the current site and the process for maintaining it, as well as lots of enthusiasm for the future. The Fastspot team is now processing what they heard with the goal of drafting a Creative Brief. This Creative Brief, which will outline all of the major creative goals and objectives, will serve as a blueprint for the project.
So what does all of this mean for you? Here's a collection of FAQs. Please ask additional questions in the comments section at the end of this post.
Q. When will the new site be ready?
A. Our target is to launch the redesigned site in January 2014. If the launch date has to change significantly, we will inform the campus.
Q. Why are you redesigning the site?
A. Our current site was launched in August of  2008. While it was innovative in its day and made us stand out in the crowd of higher education websites, that is no longer the case. The layout and aesthetics of our current website is  the perfect model of a conventional higher education web presence. There have been many technological advances since 2008 that our current site is not able to take advantage of. The prevalence of social media, smart phones, and tablets are a few examples. We are ready, once again, to distinguish ourselves with a site that is innovative and unforgettable.
Q. Who is designing the new site?
A. For a project this big, we believed it would benefit all of us to partner with an outside firm (rather than design this in-house) to help us reinvent ourselves. We selected Fastspot, an interactive design agency based in Baltimore, MD.  (http://www.fastspot.com) Their higher ed clients include Tufts, Goucher, John Hopkins Bloomberg School of Public Health, Depauw, the Kenyon Institute, and more.
Q. What will the new site look like?
A. I have no idea! Honestly! We purposely started this project with no preconceived notions. We know what we don't want it to look like (all of the other higher education websites), and we have talked a lot with Fastspot about facets of websites that we believe are really effective. But we have purposely entered into this project with no specific vision. We have set some parameters — the new site will need to be responsive so that it displays beautifully on all devices; the new site should be memorable but with a purpose (we don't want it to be attention getting for it's own sake); the new site musts be easy to navigate and find information and clearly convey the value of becoming part of the Bucknell community.
Q. Where do I send suggestions?
A. This will be an ongoing and evolving project for the next 9 months. I will post announcements through this blog and through the Message Center, and will share visuals with the campus when then become available. You can share your ideas, suggestions and concerns at any time either by commenting on a blog post, or by emailing me directly at roberta.diehl@bucknell.edu.
Q. How will it impact my web pages?
A. Only in positive ways! We will not be changing the platform that we use to make updates to the website (Ingeniux) although we hope to develop a simpler interface to contribute content into the CMS. At some point later in the process we will be reaching out to all departments with some recommendations about your current content, and some guidelines for maintaining that content in the future. By overhauling the architecture and look of the whole site, visitors will have a more rewarding experience finding and engaging with your content.
Q. What will happen to all of the comments and suggestions that we made to Fastspot during their visit?
A. We heard lots of creative ideas, listened as themes about what makes Bucknell distinct began to emerge, and heard your complaints (about search engine results, the CMS, the relationship between the public and the internal site). Mostly we heard a lot of enthusiasm and excitement (tempered by some healthy skepticism) for the project. We heard a willingness to take some risks, to ask some hard questions, and and openness to trying new workflows and processes to maintaining our web content. While we can't promise that every idea that we heard will make it to the new site, and can promise that Fastspot is using everything they heard and learned to guide their creative and technological decisions.
Q.  Will the new site work on smart phones?
A. Absolutely. Out new site will be a responsive design, which means that our site will adapt to the size of screen the visitor is using. At this point, responsive design is the smartest thing we can do to future proof our site.